Why get married in Church?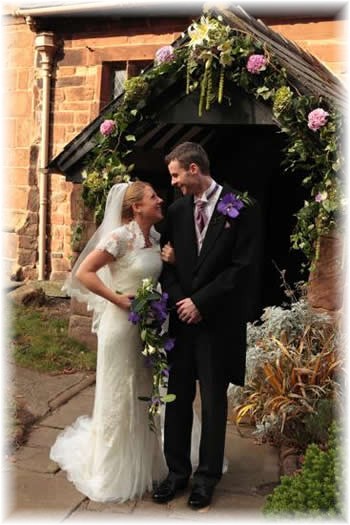 Today, marriage exists in practically every country and culture on earth. Marriage has always been part of God's good plan for us. And no wonder! A good marriage is healthy, freeing and life-giving.
Christians believe that marriage is a gift from God. There is something in a public commitment of this magnitude that has a spiritual element to it and which can transform a relationship to a new and deeper level.
God intended marriage to offer the right place to grow in love and support for each other and provide a stable and secure environment for bringing up children, Marriage can change us for the better, and as we change, our marriage grows along with us.
Can We Get Married At Shotwick?
The Church of England has legal rules which we have to follow. A couple is entitled to marry in St Michael's if:
You are both 18 or over;
Neither of you has a former spouse still living;
You are both British citizens;
AND at least one of you has a real connection with this parish, such as:
One of you usually lives in the parish;
One (or both!) of you regularly worships in the Church;
There is a strong family connection with the parish such as being baptized here, or having parents who were married here.
If these conditions can be fulfilled, we would be delighted to perform the wedding.
Are there any Exceptions?
A young person aged 16 or 17 can marry in Church, but they will need parental permission.
A person who is not a British citizen can marry in Church, but in this case the couple will usually need a marriage licence instead of calling banns.
The Church of England teaches that marriage is for life. It also recognizes that some marriages sadly do fail and, if this should happen, it seeks to be available for all involved. The Church accepts that, in exceptional circumstances, a divorced person may marry again in church during the lifetime of a former spouse.
St Michael's will agree to re-marry persons who have been previously married as long as they concur with the Bishop's guidelines.
Each case will be reviewed individually.
How do we book a wedding?
Contact our vicar on 07471 890827 or fill out this enquiry form, and check that the date you want is available. When you make a booking you will be asked for your names, addresses, dates of birth, occupations, and your fathers' and mothers' names and occupations. All this information will be needed for the marriage certificate. You will also need to show your passport to verify your nationality.
Come to worship in Church, meet the welcoming and friendly people who attend and see what happens here. It will make a big difference to your appreciation of your wedding day.
Arrange to have your banns called in the parish where you live (if this is not Shotwick).
As you prepare for your wedding, we will work with you on the details of the ceremony - for example, the choice of hymns and Bible reading.